Savy business owners already realise the need for staying on top of the latest trends in marketing and brand exposure to reach their target audience. One of the most important trends and changes in the business world is the need to adapt to is the advancement of the internet. As a growing web design Brisbane based agency, here at Rank Online Australia we understand that businesses, regardless of their size, continually want to take their brands to the next level and the most effective way to do so is to take advantage of what the world wide web has to offer.
At the end of 2017, it was reported that over 14.2 million people in Australia had access to the internet, either through a wireless, satellite or cable connection. More than one terate of data is transmitted to these users through their internet connections each month. Simply put businesses not taking advantage of the internet are losing out on an abundance of potential customers.
A particular problem that small business owners are facing is the overwhelming amount of information that is available to them. In the modern world, business owners are not sure whether to opt for a design agency or rather take advantage of online website builders. Even though many online tools have been developed to make the process of setting up a website for your brand easier and arguably more more affordable (at first), there are many disadvantages to using these tools. The majority of the online web building tools that are found on the internet today do provide a way for businesses to drag content onto a page and then publish it as their website. This may seem easy enough at first, but there is more to website design than this.
Today, there is less of need for coding skills, as these tools allow a small business owner to quickly and easily delve into the world of web design with a point-and-click interface. Unfortunately, they do not offer the same personalised approach toward website design, search engine optimisation, internet marketing and more, as compared to a professional, experienced web design agency.  Without certain key foundation elements more often than not a business website will not have the effectiveness required to achieve its objective, therefore those initially 'affordable' costs and 'easy' set up can cost a business immeasurably down the line.
The Advantages Of Choosing A Web Design Agency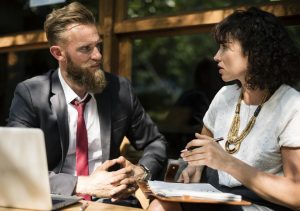 As a web design Brisbane based agency, here at Rank Online Australia we provide our customers with a number of benefits and advantages over the features provided to them an online web design tool. Our agency has experience in dealing with many varied clients, which means we have a wealth of knowledge to better service your digital marketing needs. Whether you own an electrical company, a plumbing business, a line of beauty products or a national beverage brand – as an agency that works with clients in Australia, we know how to get your business noticed on the internet in your target area. We don't only go the extra mile to ensure you can reach a wider audience, but we also make it easier for potential customers in your local area to find your business whenever they are near.
Another vital factor to consider is that, as a web design agency, we offer our customers more than just a website. When you choose to use our professional services for your website design and to help you take your business online, we are there for you through the entire journey  – whether you have just established your brand or already have a growing business that merely needs to get noticed on the internet. We provide you with the complete package – not only do we design your website, but our experience in internet marketing will allow us to also put your website in front of the people who are interested in your business and eager to hit the 'contact' or 'buy now' button.
In addition to the advantages mentioned, it should also be noted that some businesses may require more advanced features to be installed on their website. Online website builders usually only offer basic features – choosing a web design agency instead, there are no limits to what can be achieved through the development of a customised website for your business.
Why Choose Rank Online as Your Web Design Brisbane Agency?
An essential factor in the use of a web design agency is to ensure you choose a company that is trustworthy, experienced and can deliver real value for the money you will be investing. Our friendly team of professionals have the skills, knowledge and experience you need to succeed. So regardless of your requirements and no matter the size of your business, a web design Brisbane based company such as us can deliver exactly what your brand needs to succeed in the world wide web.
Although we are a web design Brisbane based agency we are not limited location, we service all states of Australia – New South Wales, Canberra, Victoria, South Australia, Western Australia, Northern Territory and of course Tasmania.  Not matter where you are located opting for us, we can provide you with both the design and development you need to launch your business successfully online and expose your business to the right audience.
The internet is growing rapidly, and more people are now gaining access to this technology than ever before. The increase in the availability of internet access also provides business owners a chance to get their businesses noticed a wider target audience. A quality website can help your business grow and ensure your brand becomes part of the future – instead of being left behind. Choosing the right agency for web design Brisbane based or otherwise can help you set up your online asset quickly, effectively and of course at an affordable price – and that's exactly what we offer you!
Want to make it easier for your customers to find you?
Rank Online Australia has a proven track record of creating performing business websites.  Whether you need to make it easier for new customers to find your shopfront, contact you for a quote, promote awareness of your brand or learn of your services, we can help you connect with them through effective and powerful web design. A balanced combination of function and presentation is key to achieving website success, and that is all in the planning.  Make a time with us to discuss how we can funnel your business to get exactly what it needs from its new digital platform.
Now think about where you want your new website to take your business and we will navigate the journey with you.  So give yourself the edge and let them find you, contact our friendly team today and learn how we can help your business shine!
We look forward to helping your business grow.